Frame and Chassis





---
24 HOUR TOW
SERVICE
412 - 793 - 8108

We do trailers...

We do custom exhaust systems and repairs...


Call Al Anytime...
412 - 793 - 8108

We do trailers too!

Arrow Automotive Inspection Service...

The Frame, Chassis and Uni-Body
---
Arrow Automotive Mechanics: Are trained to inspect body sheet metal, frame and chassis or uni-body construction during the state inspection service. We look carefully for any possible cracks in frame, rusted mounts, fuel delivery lines, brake lines, steering mounts, shock and spring mounts. We also inspect potential rust damage under the uni-body chassis, where welds can become weak and cause structural failure.
---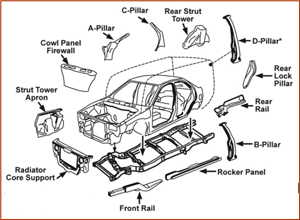 The
uni-body construction is unique because it requires the chassis to be precision built around a non-frame based vehicle. This construction may, over time become weak as welds are challenged by daily vehicle use and harsh weather related driving.
It is important that uni-body vehicles remain road salt free underneath the body. The salt can attack welds and over time, destroy the support mains along the side body panels. This is especially true when it comes to mini-vans and sport utility wagons.
Body on Chassis vehicles, such as utility wagons and light duty trucks are built onto a frame. The CAB or CABIN is generally mounted to the chassis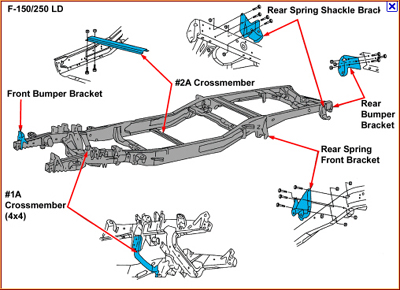 with large rubber mounts at all roll points. The FRAME is a complete rolling chassis prior to body application. This creates a heavier vehicle, but a more rigid vehicle. The frame inspection requires a total investigation, however it remains as important if not more so than uni-body designs. Most uni-body vehicles are front wheel driven, while frame vehicles are driven at the rear. The image shows points that our technicians inspect for rust or cracks. These points are located at high stress areas along the chassis. On FWD vehicles, the forward frame horns can crack and cause poor steering control. These units can be repaired. The components shown in "blue" are readily available parts.


The frame and chassis inspection includes:
REAR: A complete inspection for rust, cracks or torn shock and spring
mounts.This includes all lines, hydraulic, brake and fuel. Gas tank straps, spring
hangers, exhaust brackets and body cross members.
FRONT: We inspect for all steering brackets, motor mounts, cross-members
and transmission mounts. Steering mounts, shock and spring seats. Upper and lower
control arm mounting points.
On UNI-BODY vehicles we inspect for rear axle hangers, shock and spring mounts. Gas tank mounts . All
fuel and brake lines are inspected. We look for excessive rust at sub-frame points along the cabin.. Up
front we inspect the engine cradle. Most all axle components are mounted to this assembly. We look for
cracked or worn engine mounts. We check all shock and strut towers for rust and cracks.
Note that this complete look-over is also done during "steering and suspension" inspection. This vehicle
review is done on all vehicles, auto, utility or light and medium trucks.
---
Rust is a bust !!!
All our technicians are trained to inspect under-side body panels. Each vehicle has it's own unique "rust foot print".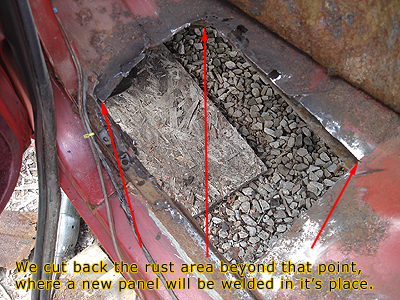 Al's Garage has a local repair facility where, minor floor board and body side rust repairs can be completed. These repairs are made using the same material as original vehicle design. Floor panels may be replaced or fabricated and bead rolled for strength. All panels are welded into the floor using state-of-art welding practices. Body panels around wheel wells, quarter panels, fenders and core supports can be replaced or repaired. Damage levels from road salt and rust must first be evaluated and estimated by our body technician. We then estimate the over-all repair and offer you a solution that will fit your budget.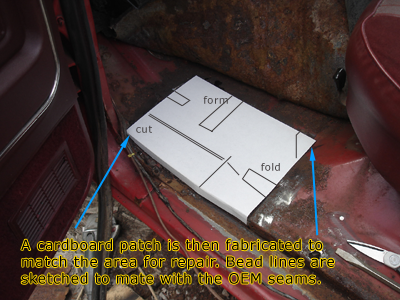 In general we use the rule-of-thumb method. These repairs, as shown here, would cost the owner-operator about $150.00. This floor board repair on an F150 not only saved the owner money, it allowed him to operate the vehicle for several years thereafter. This floorboard repair was completed under safety inspection laws. Open floors must not allow exhaust emissions to enter the cab or cabin area of a vehicle.
Note: Patches using body putty or metal tapes will not pass state inspection.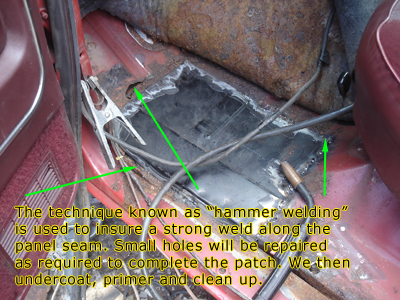 If you have any questions, please feel free to contact us...You may bring your vehicle in for a total body, and chassis inspection. Don't wait for the PA. Inspection cycle. Bring the unit in at your convenience. Call for an appointment today...