Safety Insp.






---
24 HOUR TOW
SERVICE
412 - 829 - 1881

We do trailers...
and
Motorcycles.

---

Hydraulic Hoses for all applications...

Custom exhaust for your car or truck...

We do complete
engine overhaul and
replacement.


Your car is never
too old, we service
classics and customs.


Motorcycles are
always welcome. We
inspect all models.


Arrow Automotive Services 24/7 -- 412 - 829 - 1881
Shop Number: 412 - 793 - 8108
Pennsylvania State Inspection...Our Inspection Service
You may download a courtesy PDF file that explains our entire vehicle inspection

proceedure.


Please

click here

The State of Pennsylvania requires an annual SAFETY INSPECTION to ensure that vehicles are maintained for safe operation. Safety Inspections can prevent vehicle failure on the highways and crashes that may result in injuries or death.
Vehicle safety inspections are performed at official PennDOT Inspection Stations (usually a repair garage or a service station with a repair shop). Inspection fees are posted at official inspection stations.

These fees do not include repairs to correct vehicle defects.
---
Arrow Automotive, STATE INSPECTION service......$ - 34.00
Arrow Automotive EMISSION TEST service .............$ - 29.00
Plus TAX and any additional Shop Fees if required...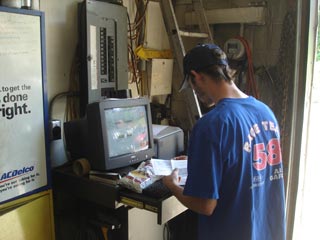 Our certified mechanic will inspect the vehicle according to law and will complete the test of emissions if required. The emission testing is done first, followed by safety.
Then the technician will send results to PennDot using a certified data terminal. Both safety and emission information is transmitted; then a report sheet is printed for the owner to carry in the vehicle. Keep this report with your owners card and insurance identification.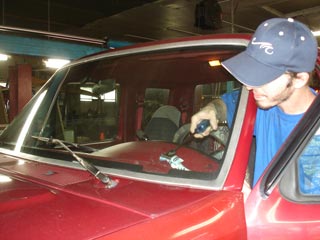 All certified inspectors will remove, old stickers, destroy them, clean windshield and place new stickers, in the proper position as per state requirement.
This is the final step in the procedure.
Please remember, our technicians will determine, by vehicle mileage from last inspection, if your tires, brakes and/or suspension components may need serviced during the driving period prior to next inspection. Our job is to inspect your vehicle while taking into consideration all vehicles on the road.
All highway safety is first and foremost the priority at Arrow Automotive...
Please see State Emission...


Click Here for PennDot Safety Inspection Proceedures.


Click Here
for PennDot Title 67 Transportation Rules and Regulations.
No appointment neccessary, but give us a call first!!